Iceland Airlines are the best
Iceland airlines are the best in my opinion. They are used to do with ruff situation shuts as bad weather and unpredictable weather.
Is it not exciting to book a flight to a new place? Going to Iceland with Icelandic airlines is probably most exotic thing that you have done (or for most people).  
If you have your own plain like some do, you have easy access to Reykjavik airport. Most of us have to accept that we have to lend in Keflavik airport traveling with Iceland airlines or other airlines that fly occasionally to Iceland, like Delta or SAS.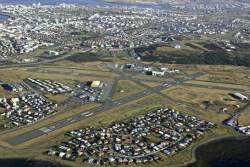 It has been a great controversial if Reykjavik Airport should stay or "leave". The people that rule City of Reykjavik want the airport away because it is a very good and expensive building land for houses. The people using the airport like the ones living in rural areas do not agree with the city people. The ones that are traveling with private jets benefits from the airport since it lies right in the heard of Reykjavik. 
Arranging a trip to Iceland give some butterfly in the stomach. Most people fly to Iceland although some take the ferry. Flying is probably cheaper during the high season (summertime). You can choose either Iceland air or Icealandexpress.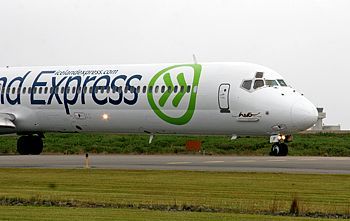 A little bird told me that Iceland Express is a much smaller airline and therefore they try harder to have their prices lower than the big old Icelandair. It has also been in the news lately that Iceland Express has been in trouble keeping the schedule on right time. I am sure they have mainly fixed that by now.  
Iceland air has 28 transit points but Iceland Express has only 17. One of the reasons Iceland Express can offer a cheaper flights is that it fly to cheaper airports. They also rent all the plains with pilots when Icelandair owns 18 airplanes. 
Iceland airlines and the international flights go through Keflavik airport which is about 30 minutes' drive to Reykjavik. The fly bus drives to the airport every hour and more frequently in the morning when the flights go out more often. At your arrival the fly bus departure from the airport for all arriving flights, 30-40 minutes after each arrival. They take you to the bus terminal in Reykjavik where you can change to a smaller city bus or take a taxi to where you are heated.  
What to do when you are on board Icelandic airlines?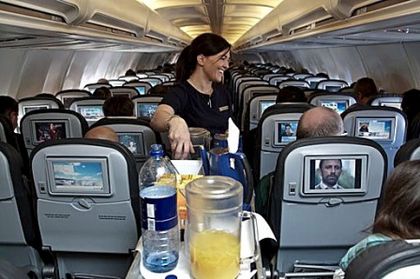 At Icelandair you will get a free meal for kids 2-11 but you have to buy your own and some free drinks. They also provide a great entertainment service for a fee. At most plains you have your own flat screen where you can choose your own movies and games. They also provide more space for your feed than their Icelandic competitor. 
Return from Iceland airlines to Iceland air