Budget car rental Iceland
How to find a budget car rental Iceland? You have come to the right place or should I say right site. When planning a trip to Iceland there is many things to consider. To have a car in Iceland is a very good thing, it allow you to travel more freely. It is not a must but very nice to have one. The fuel is very expensive so if you want to spent less on gasoline plan on renting a small car. If you are considering on going to the highland you should think about getting a 4x4 jeep, because some roads in Iceland require four wheel drive. Plan your trips and the road you are going and you will be save. The ring road, road number 1 dose not require 4x4 car.
Renting budget cars in advanced is a great way to save, whether it's for business or pleasure.
Budget car rental Iceland sometimes take extra fee for various things. Before booking a car you should check for :
| | |
| --- | --- |
| ● | How many kilometers are included or do you have to pay form them separately? |
| ● | Do you have to pay extra for insurance or is it included in the insurance on your credit card? |
| ● | Is fuel included? |
| ● | Is there a cleaning fee? |
| ● | Can you return the car at the airport and save you money on the trip with a bus to the airport? And do you have to pay extra for that? |
| ● | Last but not least check for offerings. |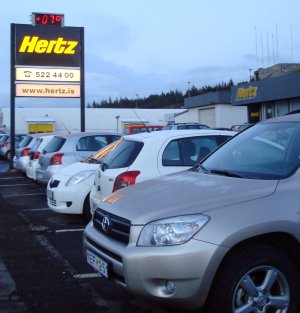 Some budget car rental Iceland offers online booking, that could save you some money if you know all the details. If you can't find online information it is best to call before you make the booking and ask for those key questions here above.
If you want some specific car type you should also ask for details how to book it. What kind of car is needed for your trip, regular car or four wheel car. Many roads in Iceland requires 4x4 cars, ask for details about that.
It is also good to know what to do if something happens, whom to call, and were to get help. How to contact customer service.
Here is a list of Budget car rental Icelandic. To call them from abroad you must ad 00-354 before the phone number.

Name Telephonenumber
Bílaleiga Akureyrar 568-6915
Bílaleiga Budget 562-6060
Bílaleiga Hassó 555-3330
Bílaleiga Hertz 522-4400
Bílaleiga RB ehf 578-6500
Sparibíll ehf 577-3344
Bílaleiga Atlas-Europcar ehf 565-3800
Bílaleiga Berg 577-6050
Átak ehf bílaleiga 554-6040
Skutlan 567-8910
Bílaleiga Bónus ehf 534-8385
Bílaleiga Icetravel 862-6300
Avís Bílaleiga 591-4000
KOK bílaleiga 517-5706
J & S bílaleiga 564-4000
Not in Reykjavik
Bílaleiga Húsavíkur 464-2500 Húsavík
Bílaleiga BG 421-4242
Keflavik
Bílaleiga JÞ 482-4040 Selfoss
Avis bílaleiga 487-8415
Hvolsvöllur
Bílaleiga SS 421-2220 Keflavik
SBK ehf 420-6000
Keflavik
Sixt bílaleiga 420-6000
Keflavik
Eyjabílar 899-2589 Vestmannaeyjum


Return from Budget car rental Iceland to home page