Icelandic sweater


Icelandic sweaters have for a long time been world famous. They are hand knitted from the unique Icelandic wool from the Icelandic sheep, in traditional patterns, and often in the "sauðalitir", that is, the natural colors of the Icelandic sheep (grey, black, white, moorit). Iceland is a country where artistry in textiles is highly valued and it is an art that most women still practice as a hobby. Women knit garments for their families to express their love through originality and warmth. Icelandic Design sweaters maintain this tradition. Icelandic Design continually strives to harmonize color, pattern, and style to bring an element of the exquisite into the lives of all Icelandic Design sweater customers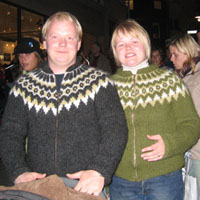 The Icelandic Sweater - Back in Fashion

The lopapeysur - what most think of when they imagine a traditional Icelandic sweater - has gained great popularity last winter, especially with the younger generation. Many more young people are requesting them at Icelandic clothing stores and having them ordered when not available. Prices range from 10 thousand to 19 thousand kronur each.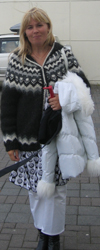 The history of Icelandic Sweater

The Lopi Sweater The lopi sweater, with its characteristic circular yoke and patterned borders, has come to symbolize Iceland far beyond the island´s boundaries. Iceland is a country of hardy long-haired sheep, whose Icelandic wool combines the qualities of softness, sturdiness, and water resistance. Not surprisingly, knitted and woven wollens have always been a necessity in the northern climate. But the lopi sweater itself, so closely identified with Iceland, is a relatively recent phenomenon. Although Icelanders have been knitting at least since the sixteenth century, the lopi sweater has a history of only decades.



Other Icelandic clothing

Medieval Icelandic clothingThe medieval Icelandic clothing were all home made cloths from Icelandic wool. It was called "vadmal". "Vadmal" was gnided fine wool and then they sowed cloths from "vadmal". In medieval Icelanders were very poor so we did not have any money to make fancy cloths. Our shoes were made from dried fish skin or lamb skin.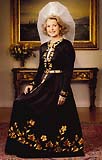 Traditional clothing of Iceland (clothing Iceland traditional )

In the latter half of the nineteenth century, the Icelandic campaign for independence from Danish rule was at its height. The traditional women's costume 'the peysuföt' acquired at this time a new significance. Icelandic women also adopted two new versions of national costume, which had been designed by Sigurður Guðmundsson 'the Painter' the kyrtill and skautbúningur. Sigurður saw these costumes as having a role to play in the movement for independence. Around 1900, women started to wear the upphlutur , which originated in the 19th century, as a national costume in its own right. The upphlutur derives its name from the laced bodice, which had previously been worn under the 18th century women's costume and later under the jacket of the everyday peysuföt costume.
The independence movement may be said to have marked a turning point in the history of Icelandic women's costume. The characteristic national costumes of the period from the latter half of the nineteenth century are the peysuföt, upphlutur, kyrtill and skautbúningur.


Would you like to knit your own Icelandic sweater, click here to learn more.

Take a look at some of the hottest Icelandic clothing designers here.

Don't know how to knit, here is how.