Physical map of Iceland
It is a good thing to get a physical map of Iceland but many people come to Iceland only to explore Reykjavik. At tourist information you can get a pretty good map of the capital and the surrounding area. But if you are planning a trip on your own to the country side you should get yourself a more detailed map.


When getting a physical map of Iceland of Iceland the best thing to do is go to a bookstore, any bookstore will do. They have all sorts of maps, both atlas and also charts. If you are planning on hiking you should get a really detailed map.



For those that are planning to drive, it really depends on where you are going, if you are one of those 4x4 fans you should also have GPS. Many people drive the ring road which is paved the whole ring. It is always good to have a physical map of Iceland with you but not necessary since you only have to follow the road no. 1, which will get you back to Reykjavik if you started there. Vestfirdir to Isafjordur is also newly paved but most of the other roads are gravel roads. Most accident happens because drivers are driving too fast or they are crossing a one lane bridge. Yes we still have a lot of one lane bridges but not on the ring road (1). So be careful when you see the sign of a one lane bridge. Strangely enough farmers release there sheep's from their farm every spring. The sheep's are suppose to go to the highland and eat there all summer, but some don't. Some of them are like naughty teenagers; they hang around the roads and eat the fresh grass there. That is little fun for us that are using the roads, because the sheep's don't know the rules of the road. If you see a sheep on one side of the road and a little lamb on the other side you should stop or do like Icelanders do honk your horn and try to get them to join together. When traveling at winter time there is other things to consider then the sheep´s, they will be home at their farms or in the supermarket. Slippery roads and snow causes many accidents, so be careful.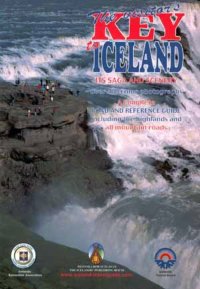 Iceland is a rather large island and located in the middle of the North Atlantic Ocean east of Greenland immediately south of the Arctic Circle. Iceland. In Iceland we both have active volcano and geothermal area. Its coastal plain is indented with fjords and glaciers covers about 11% of the land. Reykjavik is the capital city and serves as a major North Atlantic port. Other ports and harbors are Akureyri, Hornafjordur, Isafjordur, Keflavik, Olafsvik, Seydisfjordur, Straumsvik and Vestmannaeyjar. One more thing about physical map of Iceland. If you want to have fun while drive and you want your own personal guide I would recommend a book that is called "The Visitor's KEY to ICELAND". This book has saga and scenery of over 400 color photographs and a complete road and reference guide and also the highlands and all mountain roads, vital thing for a successful trip.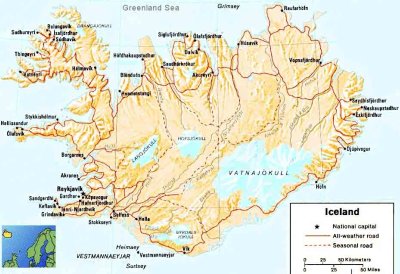 Google has a terrific tool to get a map of Iceland. I used this great tool to make a printable map. Enjoy.

Click here to download a physical map of Iceland.

Click here to read more about road maps

Return from Physical map of Iceland to home page