Iceland recipe
Try something new at home, something totally different
Here comes some of my most loved Iceland recipe. First we have few meat recipes and then some cakes that my mother used to make when I was little. They are easy and fun to make.


Roast leg of Lamb or Roast Saddle of Lamb
My mother use to have this Iceland recipe every other Sunday. Place in a roasting pan on a rack or grease under the meat with butter (excess fat can be removed).
Season the meat with salt and pepper.
Roast at 450°F for 15-20 minutes and then lower to heat 350°F. Pour hot water or lambstock into the pan and roast for about 15 minutes per pound; basting with the stock. Additional water or stock may have to be added during the cooking.
While making gravy, place the roast under the broiler for 3-5 minutes for browning. Make gravy from the stock. If stock is fatty, skim. Thicken with flour and butter. Cream or milk can be added. Season with salt and pepper to your liking.

Gravy:
In any roast pour off all but 1/4 cup of fat for every 1/4 cup flour used, cool a little and add flour, 1/2 tsp salt, 1/4 tsp pepper. Add 2 cups boiling water slowly, stirring constantly. Boil 3 minutes.

Icelandic "Ham" - Rolled Sausage
This Iceland recipe was one of my favorite when I was in school. I use to have this cold cut on my bread every day. Here is one way of how the Icelandic people used all of the meat of the sheep. They even used the flank of the sheep which is mostly bones and fat and turned it in to delicious cold-cuts.

1 kg (2 pounds) thin flank mutton or pork
2-3 tsp salt
1 tsp sugar
1/2 tsp ground pepper
1/2 tsp saltpeter (optional)
1 tsp ginger
1 tblsp onion, finely chopped

Wash and dry the flank. If they contain ribs, remove them. Beat with a meat hammer to soften. Cut the bellies into a regular shape, large enough to roll up. Cut the rest up in strips. Rub the spices on one side of the flank and arrange the meat strips on top. Roll up the bellies tightly, taking care to obtain an even thickness. Hold together with a fork or some toothpicks, and sew closed with twine. Start at the middle and work towards the ends. Truss up with more twine. Rub with a mixture of salt and saltpeter, 3 tblsp. salt and 1 tblsp. saltpeter. Preserve by freezing. Cook for 1 1/2 to 3 hours, depending on size. The sausage is done when it can be easily pierced through with a pin (use a slender knitting pin). Before my father made special press to put to press this Iceland recipe, my use to press it with the help of kitchen cabinet. She builds up a stalk of things and pressed it under the upper kitchen cabinet. When it's done, it should be pressed - place on a cutting board, put another cutting board on top and weigh down with something heavy. Keep it pressed until cold. Cut into thin slices and serve on bread.


Lamb Pâté
My mother use to make this Iceland recipe every autumn for the whole winter and but the Pâté in the freezer Here is how we use the fatty bits of the lamb that we don´t tent to eat for dinner.

5 kg lamb meat on the bone (fat cheaply meat)
120 g onion, quartered
2 tsp ground pepper
1 tsp cloves, ground
150 g salt
2 tsp allspice, ground

Wash the meat and cook in a little water, onions and salt. When the bones can be easily pulled from the meat, it is done. Put the cooking liquid aside and skim off the fat - do not throw away! Remove the bones and gristle from the meat and run it through a grinder or food processor with the onion pieces. Grind it finely - it must be smooth.
Knead the pâté (use a mixer with kneading hooks) and thin with the cooking liquid and fat. It should be fairly thick. More fat makes it more spreadable. Add the spices to taste. The color of the pâté should be pale, almost white. To store, pour into molds (a deep cake mold or bread pan is fine). Allow to cool to room temperature before putting in the refrigerator to cool completely. Remove from the mould and cut up into suitable pieces. Wrap up in kitchen foil, pack into plastic bags and freeze. Slice or spread on fresh bread.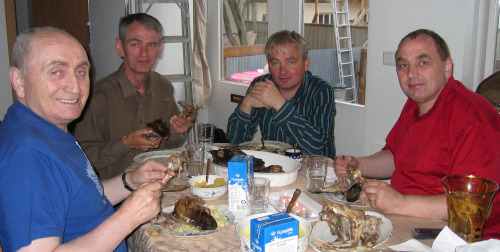 Singed sheep's heads & sheep's head jam
When we went camping this my mother made this Iceland recipes and took the jam with us and we ate it cold in our tent and loved it.
Sheep's head jam is a traditional meat product that can be found in any Icelandic supermarket but it is much better homemade with this Iceland recipe. It is usually eaten fresh, but during the Þorri season you can also get whey-pickled head jam. There is also a pig's head version, svínasulta, which includes spices. This variety food is known as head-cheese or brawn in English.
Some Iceland recipes include gelatin, but it is generally not necessary if the cooking liquid is allowed to thicken during cooking (by not adding water unless it seems to be completely evoparating).
6 ea sheep's heads, singed (see instr. below)
as needed water and salt

How to singe and otherwise prepare sheep's heads for cooking: Take the fresh heads and singe them with fire until all the hair is burnt. Use a stiff brush to clean the heads under running cold water. Clean the area around the eyes and inside the ears especially well. Saw the heads in half lengthwise and remove the brains (less messy if you freeze them first). Cook them with the skin.

Preparation: Pack the heads into a cooking pot, sprinkle with coarse salt and add water. It's not necessary to let the water cover the heads completely. When the water boils, skim off the scum. Cook, covered, until the flesh begins to separate from the bones, 90-120 minutes at the least. Heads meant for jam need longer cooking. Heads that will be eaten without further preparation generally need only 60 - 90 minutes cooking, and should only be cooked until the flesh is cooked through, but has not started to separate from the bones.

Make the jam: When the heads are cooked, remove from the cooking liquid. Heads that will not be made into brawn are put on a platter and served right away, or allowed to cool. Heads that will be made into jam are taken and the meat cut off the bones and into coarse pieces. You can include the skin or leave it out as you wish. Put the pieces in a loaf pan and put a light weight on top. Allow to cool at room temperature and then put it in a refrigerator to set completely. To make more of the jam, include some of the cooking liquid in the mix. The cooking liquid will set better if singed sheep's legs are cooked with the heads.
When the brawn is set, it can be eaten fresh or preserved in whey.

Serving suggestion: Sheep's heads are served either hot or cold. Either way, they are usually served with plain, boiled potatoes, rutabagas ( cooked with the heads) and white sauce. I hear lemon-sauce is also good with sheep's heads. Brawn, fresh or preserved, is usually served buffet-style (Þorrablót) with several other kinds of variety meats, fish, bread and boiled potatoes. Thinly sliced fresh brawn can be used as a topping for bread or a filling for sandwiches. My personal favourite is fresh brawn with potato salad.



Icelandic Lichen Flatbread with hangikjot (smoked lamb)
The Iceland recipes for this delicious flatbread are here. You can either have the moss in it or skip it.

Butter the bread and put the hangikjot (smoked lamb) on the bread. This will be appreciated after hard work either in school, work or traveling. I just made this Iceland recipe for my husband to take with him to work.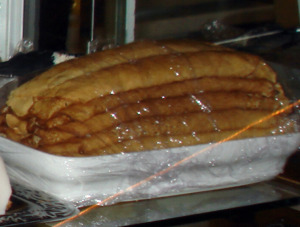 Icelandic Pancakes
A real Sunday treat. Here is a Iceland recipe that you can find in every kitchen in Iceland and it is often made when guest arrive out of the blue because it is easy and fast made. You can either sprinkle sugar over each pancake or if you want it more yummy you can but a jam and whip cream and fold it to ways so it looks like one fourth of a pancake.

Take 1 cup flour
2 egg
1 tbs baking soda
100 grams margarine/butter
some milk

Blend everything together and it should be thick like a cultured milk.
Take skillet or Icelandic pancake pan and melt the butter in it. Allow to cool slightly. Mix up the dry ingredients and add some milk to make a thin paste. Add the eggs. Add the margarine/butter (don't wipe or wash the skillet after melting the fat). Cooling the fat is important, because if it is too hot, the eggs will curdle and make lumps in the dough. Experiment with the thickness of the dough. Heat the skillet over high heat and lower to medium. Pour on a portion of the dough, just enough to cover the pan (this is a skill that will come with practice). When the underside is golden brown, turn over and fry the other side. The pancakes should be thin - a proper Icelandic pancake is only about a millimeter thick! Stack the pancakes on a plate and sprinkle some sugar on top of each pancake to prevent them from sticking together. Both my mother and mother in law use to make these Iceland recipes before every Christmas, both brown and white version.

Serving suggestions: - Sprinkle with sugar and roll up, eat and enjoy - either warm or cold! Jam and jelly, especially rhubarb, blueberry or strawberry, is also excellent on rolled pancakes.

"Sunday best" cream pancakes: Cover the centre of each pancake with your favourite jams or jellies, add a couple of tablespoons of whipped cream (pancakes must be cold), fold in half, and again in half. Serve with hot cocoa. -Stack the pancakes, spreading jam on top of each one. Cut in wedges and serve like a cake, with whipped cream.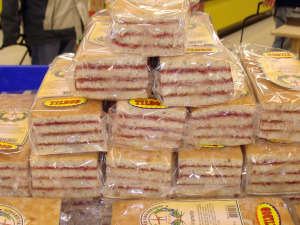 Viennese cake or we call it Randalín or layercake
500 gr sugar
500 gr butter/magarin
2 eggs
1 kg wheat
2 tsb baking powder
1 tsb baker's ammonia (ammonium carbonate)
2 tsb vanilla extract

Mix together all dry ingredients. Add the margarine/butter, kneading until well mixed. Cool in the refrigerator for 12-24 hours. Roll out into a thickness of approx. 1 to 1 1/2 cm. You can divide the dough now or after baking, into as many parts as you want layers (3-5 is the usual). Try to keep each portion the same shape, size and thickness as the others. Bake in the centre of the oven at 200°C, until golden in colour and done through. Remove from the oven and allow to cool. When the cake is almost cold, spread rhubarb jam or prune jam (see Iceland recipe below) on top of all layers except one and sandwich the layers together.
This cake freezes well and thaws quickly, and is liked by almost everyone.-Brown Viennese: Add some cocoa to the Iceland recipe and use vanilla butter icing instead of jam, or alternate layers of icing and jam -Alternate layers of jam and butter icing.

To make prune jam: take one kilo (approx. 2 lbs.) prunes with pits, or equivalent in pitted prunes. Soak the prunes in water to soften and remove the pits. Mince the prunes and cook on low for 30 minutes with 650 g sugar. Cool before spreading on cake.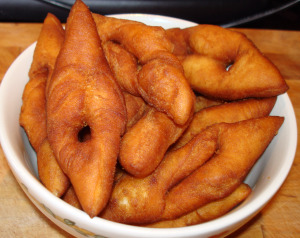 Icelandic Kleinur - Twisted doughnuts
Kleinur is something Icelandic people love, newly fried twisted doughnuts with cold milk is something that is hard to stand. Try out this Iceland recipe and you will love it.

500 gr flour
2 tsp baker's ammonia/hartshorn salt (ammonium carbonate)
40 gr margarine/butter
1 tsp baking powder
2 medium eggs
150 gr sugar
150 ml milk/sour milk
2 tsp essence of cardamom


Mix together the flour, sugar, baker's ammonia and baking powder. Mix in the soft margarine and then eggs and milk, followed by the essence of cardamom. Knead into fairly soft dough. Avoid over-kneading, as this will make the doughnuts tough. Flatten dough thinly, cut into strips (these should be anything from 5-10 centimeters wide, depending on weather you wants small or big doughnuts) and then cut it into diamond shapes. Cut a small slit in the centre of each diamond and gently pull one end through the slit, to make the twist in the doughnuts. Heat the frying fat. It must be very hot, and will have reached the right temperature when a doughnut browns and cooks through in about 1-1 1/2 minutes.

I always remember how nice it was coming home from school and smelling the aromatic when my mother was making this Iceland recipe.
Icelandic twisted doughnuts are fried in a liter of vegetable cooking fat that can be heated to a high temperature.

Note: Most deep-fryers cannot get the oil hot enough for frying kleinur - but they are safer than using a pot on the stovetop. If you do use a fryer, heat the oil to the maximum temperature, and allow the oil a short time to heat up again after each round of doughnuts

Are you looking for fish recipes? Take a look at this

Return from Iceland recipe to Icelandic food

Return from Iceland recipe to home page