Icelandic Moss
Icelandic moss the miracle herb
Do you need a miracle herb? Icelandic moss is the one. Why? Because when we the Icelandic people lived in cold, wet mud houses 100 years ago we did not have any modernistic medicine like penicillin

but we did have moss which works in similar ways but only naturally. We used it for cough, ulcers, red or sore throat and to strengthen the immune system.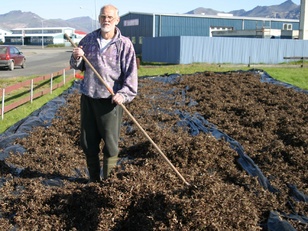 The Iceland moss (Cetraria islandica), is lichen and called "fjallagros" (mountain grasses) in Icelandic but it is of course neither moss nor grasses. It was widely used to supplement grains in our diet (grains had to be imported and were expensive), but also added to "skyr" (curd) or sausages, or boiled in a porridge or a soup, or used in practically anything that was cooked here. I even have a Iceland recipe for moss candy, and there is a company here that makes throat lozenges and other health stuff from it. Icelandic moss is probably sold in some European health food stores.


Do you want to know how to use it? Here are a few of the best Iceland recipes. The first one is for the bread, an old handed down family recipe, centuries old but probably made only with Iceland moss and rye or barley flour earlier, not wheat. Another version of this bread, without the lichen, is far more common nowadays. Both are produced commercially. Iceland moss is also used in several modern bread recipes.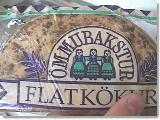 Icelandic Lichen Flatbread
1 packed cup Iceland moss (measured after soaking)
1 1/2 c rye flour
1/2 c stone ground whole wheat flour
Pinch of salt
Boiling water as needed

(1 cup soaked Iceland moss is about 2 cups dried.) The Iceland moss is soaked for a few minutes in lukewarm water to soften it, then drained and chopped (you can use a food processor). Mix it with rye flour, wheat flour and salt, then gradually add boiling water and stir well, until you have a stiff but pliable dough. Divide it into 12 equal pieces, roll them out thinly and cut out a round cake, 7-8 inches in diameter. Prick them with a fork.

As for the baking - well, in the old days they were either baked directly on the hot embers of the kitchen fire or on a large hot stone. I cook them directly on one of the plates of my electrical cooker, as my mother did, but I'm sure a good griddle would work as well. They are baked at high heat, until black spots begin to appear. Then they are turned and cooked on the other side. They should be stacked and covered at once, either with a damp cloth or a plastic bag, else they dry out and become hard and brittle. They will be rather chewy (the commercial ones I can buy here are softer but not as tasty).
They are either eaten warm with lots of butter and maybe cheese, or cold with butter and thin slices of smoked lamb.

Icelandic moss tea
2 tsk Icelandic moss
1-1 ½ cup water
honey, lemon
Port he hot water over the moss and let it be for 10 minutes. Flavor it with honey and lemon.


Lichen Milk Soup
a large fistful of Icelandic moss
1 litre (4 cups) milk
1 tbsp sugar or brown sugar
salt
Wash the moss and dry it. Pour the milk into a saucepan and heat to the boiling point. Add the moss and the sugar and simmer for 10 minutes. Add salt to taste and serve. In another version, the soup is simmered for 2 hours, until somewhat gluey. Some versions add far more sugar but that is not traditional.


Spelt bun with Iceland moss
½ kg (1 pound) spelt
1 pack moss
1 pack yeast
1 egg
2 tbsp olive oil or coconut oil
¼ cup water
1 cup milk
Put the moss in hot water for few minutes. Blend the yeast and the spelt together. Heat the milk; add the moss and the water together. Blend together with the spelt, add the egg and oil. Knead the dough and let it raise for 20-30 minutes. Make buns and bake at 180°C (356°F) until they are brown and look yummy.


Return from Icelandic Moss to home page

Return from Icelandic Moss to Icelandic food