The Blue Lagoon in Iceland story
Do you want to hear the story about the Blue Lagoon in Iceland? It began in the year of 1976 when Heating Plant of Sudurnesja Committee worked on a project in Svartsengi and regression of water developed a lagoon. What they did was drilling a hole in the ground that was 2000 meter (6561feet) deep. The hole only gave steam so they put water in it, the only water which was nearby was sea water. They used the seawater to pump in to the holes and up came mineral rich greenish water.
1981 people began to bath in this water and discovered better health for their skin problem. Six years later a small place with dressing rooms opened. 1999 they opened the new building and moved the lagoon like it is now.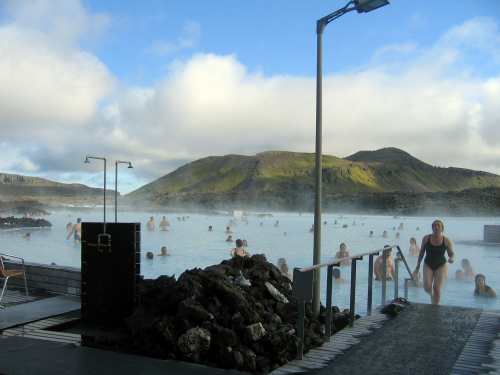 The Blue Lagoon in Iceland has won many recognition e.g. for the world's best natural health spa, one of ten unexpected bath sites and one of 25 best health spa in the world.
The Blue Lagoon is most visited tourist place in Iceland both by Icelanders and foreign tourists. The Lagoon focus on tree things, the lagoon itself, skin products under the Blue lagoon name and health spa for psoriasis patients. They also run few stores and a health spa in Reykjavik.
The health benefits of green algae in the water has so much healing power that it is put in to all the Blue Lagoon Iceland products. It is unique green algae in the world.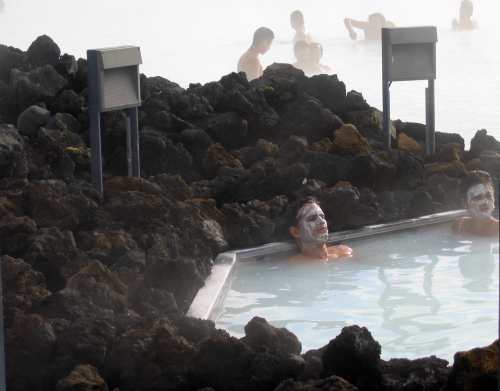 The Lagoon is 40 minutes' drive from Reykjavik and 20 minutes' drive from Keflavik International airport. When you are driving from Keflavik airport to Reykjavik you can spot a big steam cloud rising up to the air on your right hand near small mountains. That is where the Blue lagoon is situated at Svartsengi.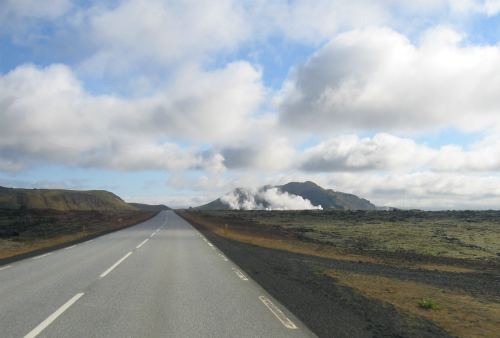 Many tourist use there last day in Iceland to stop on the way to the airport, when they have a afternoon flight. You can take a bus to the lagoon and they will keep your luggage for you when you go swimming. And then you get a bus direct to the international airport.
Return from The Blue Lagoon in Iceland to Places to visit in Iceland
Return from The Blue Lagoon in Iceland to home page