Reykjavik Seafood Restaurants
Do you love seafood? Reykjavik Seafood Restaurants is then the place for you, no matter if you are looking for new style fish courses, sushi or grandma style they got it all.



Domo
Is a rather new restaurant that specializes in sushi. Me and my husband have been there several time and always gotten a very good and more than average food. They also have cooked fish and meat so if you don't like raw fish you can choose from many other dishes. Domo is down town Reykjavik at Thingholtstraeti 5, tel 552 5588. Their opening hours are for lunch 11:30-14:00 and dinner 18:00-22:00. Price range is ($$$).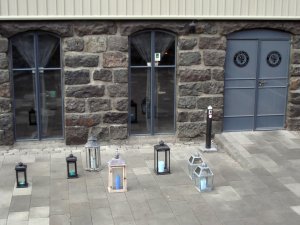 Fiskifelagið
I went to this place the other day and they know how to make a good meal. This Reykjavik Seafood Restaurant is in a new old house that is this house was moved from another location and renewed all over. They are in the cellar (they have a elevator) and I got a very cozy feeling when I came in, a lot of candles and servants everywhere. The food was exceptional. I am looking forward on going back. They are at Vesturgata 2a, tel 552-5300. Opening hours are for lunch 11:30-14:00, dinner 18:00-23:30, price range ($$$$).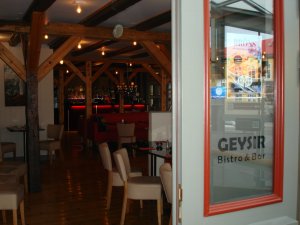 Geysir Bistro & Bar
They are located down town in the same house as tourist information. Inside this Reykjavik Seafood Restaurant it is very nice and pleasant. I went with a group of people 10 people and everybody got a different thing to eat. Some got starter but all got the main dish and others got dessert. Everybody were very happy with their meal and got home very satisfied. I would say that Geysir is little bit more casual than some of the other expensive Reykjavik Seafood Restaurants. They are located in Adalstraeti 2, Tel: 517-4300. They are open from 11:30 every day, price range ($$$).

Humarskipið
Is a lobster ship that is situated in Reykjavik harbor. They serve both fish and meat but they are specialist in fish dishes and service great meal in a special surrounding area. They are at Geirsgötu 11, Tel: 562-2300, price range ($$$).

Lauga-ás
is a another one of Reykjavik Seafood Restaurants near the great big swimming pool in Laugardalur. This restaurant were my mothers and fathers favorite. I remember my father always got gratinated fish, he was a great lover of fish dishes. Lagua-ás is at Laugarásvegi 1, Tel: 553-1620. They are open from 11-14 and from 17-21. Price range is ($$-$$$).

Ósushi
Serve sushi, sashimi and miso soup. You can drop in to just have one or two bites or for a whole meal. I often come here and I just love it. The food is already on the table or they have this funny line that you can pick your favorite dish from and if you want the soup you just have to holler for the waiter and ask for it.

They are at down town Lækjargata 2a and Borgartúni 29. The down town restaurant is open from 11:30 – 22:00 except on Sundays they are open from 13:00-22:00. You don´t need to order a table but in case you have to call them their phone number is 561- 0562. Price range ($$).

Sjávarbarinn
Is a newly opened and is one of great Reykjavik Seafood Restaurants. They are situated near the harbor, a bit out of the way but the good thing is that they offer a pickup service for dinner. They have the freshest of the fish on the marked and are reasonable in pricing. I recommend Fish Cakes Grandma Style they are my favorite and a lot of others peoples favorite dish too because it is the most popular dish on the menu.

Sjavarbarinn is at Grandagardi 7, Tel: 517-3131. They are open 11:00-22:00 but on Sundays from 16:00-22:00. Their price range is ($$-$$$).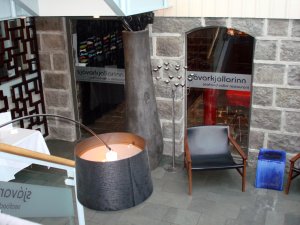 Sjávarkjallarinn
Has been here for many years and proven it success. They have a great fish menu and very good service. If you are a fish fan, Sea cellar is something for you to try out. They are located at Aðalstraeti 2, Tel 511-1212. They are open every night from 18:00, price range ($$$$).

Sushi smiðjan
Is rather new sushi place near the harbor. You can ether take the food with you or eat it there looking over the marina. They are situated at Geirsgötu 3, tel :517-3366, they are open from 11:30-22:00 every day. Price range ($$).

Sægreifinn
Is a very special place. If you want something different, new and adventures try Sægreifinn. Were your jeans and jacked but not a toxido, and you will feel at home or maybe not at home it is so different. They serve grilled fish and whale meat on a stick or get their soup with a bread basket. Buy as many fish sticks as you like and you will enjoy eating it inside or outside with the view over the marina. They are at Geirsgötu 8, tel: 553-1500. They are open 11:30-22:00 summertime (but only till 21:00 wintertime). Their menu varies from summer to winter. Price range is ($$).

Við tjörninna (by the pond)
Is very cozy place with old furniture and has its own home style. They serve great fish dishes and also meat for those how prefer something heavier. The head chef is classic and famous in Iceland for good food. This Reykjavik Seafood Restaurant is on a second floor in an old house near the pond (no elevator) in Reykjavik down town. They are located at Templarasund 3, Tel: 551-8666 and to be sure to get a table I would phone them beforehand. Oh it is such a lovely place. Price range is ($$$).

Þrír frakkar
Three Frenchmen or three overcoats, I have never understood the name. The head chef (is name is Wolf) is a funny guy and knows his thing. I think this restaurant is full every night. When I have been here several times it is always full and there is a reason for it, they just got it. They know how to cook fish and do it well. Everything I have tasted here is just excellent. It is a homey little restaurant on a ground floor in 101 Reykjavik. It is situated in a residential area but very near down town at Baldursgötu 13, to order a table call 552-3939, their price range is ($$$). They are open on working days from 11:30-14:30 and 18:00-22:00 and on weekends 18:00-23:00.

Return from Reykjavik Seafood Restaurants to Icelandic Restaurants


Return from Reykjavik Seafood Restaurants to home page