Icelandic 4x4 club
We have Icelandic 4x4 club which go together. They have experienced people amongst them which guide other the right way.
The biggest Icelandic 4x4 club in is "Ferðaklúbburinn 4x4"

Here are some things to have in mind when you go on Icelandic 4x4 glacier trip.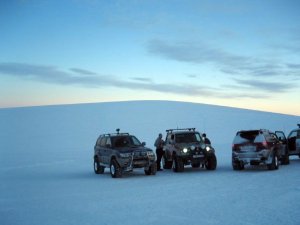 When you go on a glacier trip it is necessary to have GPS dots which you can get from Jörfi (Jöklarannsóknarfélag Íslands). Because the glacier changes and new crevasse come and go. Snow avalanche can also occur on the glacier.


Vatnajökull is the biggest glacier in Europe
Langjökull often said to be the easiest to cross over
Hofsjökull is the highest of all except Vatnajökull. Hofsjökull is 1765 meter above sea level.
Mýrdalsjökull is the glacier that is southernmost of all Icelandic glaciers.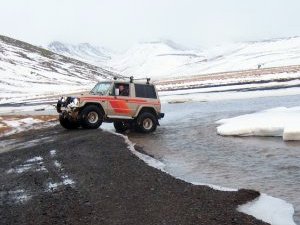 Here are some places Icelandic 4x4 clubs visit regularly
Langjökul
Grímsfjall
Setrið
Sultarfit
Langjökull
Grímsfjall
Snæfellsjökull
Þjórsárver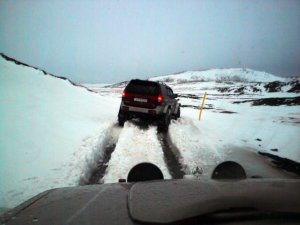 Here is some information on what to bring when you are going on a winter tour.

Shovel it is a must in every car
CB transceiver
Tow ball
Hauling rope 20 mm nylon, 10 meters would be sufficiently
Barometer that can measure from 0.5 psi down to 1.5 psi
Air-pump
Mobile phone
Beach buggy-jackscrew

Return from Icelandic 4x4 club to home page