Iceland Budget Restaurants
If you want to grab a bite but not spent that much Iceland budget restaurants is it. Take a look at few of my favorite restaurants and see if some of them might grab your attention



Austurlandahraðlestin
Has very good Indian food. They are both take away and have some tables so you can eat in. They got hot, sweet, mild and everything in between. They are located down town at Hverfisgata 64a, Tel: 552-6007. They are open 17:00-22:00. Their price range is ($$).

Bæjarins bestu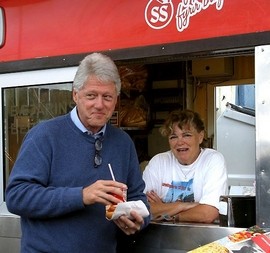 Is one of the places Bill Clinton ate at when he came here. It is one of the most popular places to grab a bite in Reykjavik both day and night. They only serve one item and that is hot dog, the best in town everybody says. The name of this hot dog booth is "The Best in town" meaning best hot dogs in town. They are down town right by the harbor and sell hot dogs like no other. They are open when there is traffic so all day and most of the night. Tel: 894-44515, price range is ($).

Deli veitingastaður
Deli is manly a take away but they have few stools that you can enjoy your lovely bit on the run after or in between at shopping. They have Pizza, Pasta, Panini, Baguette and more. They are located at Bankastraeti 14, tel 551-6000 and their price range is ($). They are open 10:00-19:00 working days and 12:00-19:00 on Saturday.

Grillhúsið
Is more like American style restaurant. Me and my husband use to come here very often. We liked the food, atmosphere and the price was reasonable. They are a bit like Hard Rock café but the music is not so loud. This casual Iceland budget restaurant is located down town Reykjavik at Tryggvagotu 20, tel: 562-3456. Their price range is ($$-$$$).

Kebabhúsið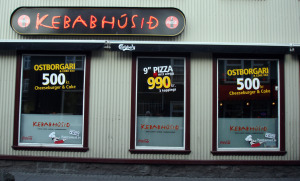 Serve Kebab ;) It is very popular here but we only got one Kebabhouse and that is located right by Ingolfstorg in Austurstraeti, tel: 534-5720. Their price range is ($).

KFC
Kentucy Fried Chicken was the first American chain to settle here and there are now 7 of them. The one in Reykjavik is in Faxafeni 2, tel: 568-0636. They are open from 11:00-22:00. Price range is ($).
Metro
Until just recently we had McDonalds they closed because of the crisis and the same owner opened a new hamburger restaurant and named it Metro. Now they have the same staff and everything except for the ingredient is now totally Icelandic. Although it is no longer McDonalds they have the same quality standards. They are situated at Sudurlandsbraut 56 and in Kringlan the big shopping mall, tel: 581-1414. Price range is ($).

Múlafkaffi
Is more like where the truck driver stops for lunch. It is working-class restaurant with Icelandic homemade food. If you want to taste Icelandic food like mommy made it you can go to Mulakaffi. The taxidriver and other working class come here to eat food like at home.

Mulakaffi is open working days from 7:30-20:00, Saturday from 7:30-14:00 and Sunday from 11:00-20:00. They are located at Hallarmula, tel 553-7737. Their price range is ($$).

Nings
Is a oriental/Chinese restaurant. I sometimes come here if I want Chinese food, they also got health menu. They now have 3 Iceland budget restaurants. The first they opened is on Sudurlandsbraut 6, tel: 588-9899. This restaurant is really popular both for take away and for eating in. They are open 11:30-22:00 every day. Their price range is ($).

Núðluhúsið
The Noodle house is located in center at Laugavegur 58 right above Bonus (the yellow grocery store). They manly serve noodles both for take away or to eat in. I just love some of their dishes. They say it is the best thai food in town and I can say the same. Their phone number is 552-2400. Their price range is ($).

Potturinn og pannan
Is one of the oldest Iceland budget restaurants in Reykjavik, opened 1982. They serve all kind of food, fish, meat, vegetarian and children menu. What I find best with this restaurant is the soup and salad bar, they have just excellent salad bar with all kinds of wonderful things and newly baked bread. You can either just get the soup and salad or have it with the main course. They are located Brautarholti 22, and opened from 11:20-22:00. Tel:551-1690, their price range is ($$).

Subway
Subway came first to Iceland 1994. They now have 19 Iceland budget restaurants with all the goodies that you know from your favorite Subway restaurant from home. You can eat Subway at any time of the day or night because some of the restaurants are open 24/7, but most of the restaurants are open from 10-22 working days and 11-22 at weekends. The restaurant that is located down town is at Austurstraeti tel: 511-1700. Price range is ($).

Return from Iceland Budget Restaurants to Icelandic Restaurants


Return from Iceland Budget Restaurants to home page